The Heron Tower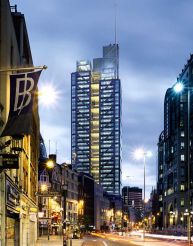 The Heron Tower is one of the most impressive modern skyscrapers of England. Its height is 230 metres, which makes it the highest building in the London's financial centre.
The tower was built between 2007 and 2011. The building is interesting due to its futuristic design. The large aquarium located in the lobby of the skyscraper should be noted. It is the largest private aquarium in England. You can see there about 1,200 fish of various species. The building houses offices, as well as cafés and restaurants. Some of them are located on floors 38–40 with stunning views across central London.
Another famous and unique skyscraper – Gherkin – is located not far from here. To get to the Heron Tower, go by underground to Aldgate Station.