The Tower of London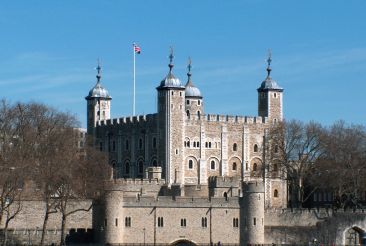 In London, on the north bank of the Thames, stands the ancient fortress, which has played a special role in the history of England - is the Tower of London. For many centuries, unwanted representatives of a noble family, political conspirators, apostates and those who do not hit the ruling monarch, crammed to the Tower. Among the prisoners there were three queens. At the point of death installed crystal plate as a reminder of the tragic events.
During its 900-year history of the fortress was not only a state prison, but mint, arsenal, observatory and repository of royal relics. Treasure Trove is one of the most visited buildings Tower. Stored here is the largest cut diamond in the world - I. Cullinan Diamond adorns the scepter of King Edward VII.
In the center of the fortress stands the White Tower, one of the first and most ancient structures of the Tower. Once in her living quarters in which the owner of the castle lived. And in wartime, the tower served as the last refuge for the defenders. The thickness of its walls about 4 meters, height - 30 meters. Today in the white tower housed the museum exhibits. Basically, all the tours are in English, for foreign tourists have the opportunity to purchase an audio guide.
The Tower of London is open on Monday and Sunday from 10:00 to 17:30, other days - from 9:00 to 17:30. In winter, the museum closes at 16:30. The last group comes in at 17:00 and 16:00 respectively. Preferred to get to the fortress on the subway, called «Tower Hill». Also can be reached by bus number 15, 42, 78, 100, RV1. Entrance to the castle is worth about 20 pounds. Children from 5 to 15 years old get 50% discount on tickets.