Macrobert Art Centre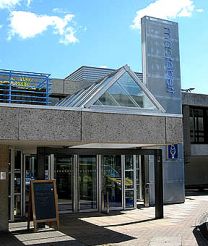 McRobert is an institution in which both operate the theater and cinema. It is located in the main building of the University of Stirling in the Scottish city of the same name. McRobert was opened in 1971 as a center for the arts. In 2002 MacRobert passed extensive repair activities, which resulted in the discovery of new facilities, designed for viewing movies. In 2008 MacRobert became independent of the University and is now one of the most visited cultural centers Scottish.
During business hours at the nearby parking is quite difficult to find a place. Therefore easier to use public transport. Buses 54, 54A, C54, 58, C58, 62 and 63 stop near the university.