Royal Windsor Horse Show 2014 now open
2126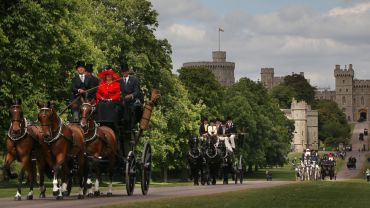 Today, Windsor, a town in Berkshire near London, is hosting the Royal Windsor Horse Show. Dressage, show jumping, driving in carriages, show riding pony, showing classes of riders from more than 24 countries will be held until the 18th of May. An integral part of the program are unforgettable evening performances, where you can see musical drive of the Royal Horse Artillery, the DAKS Pony Club Mounted Games, various equestrian competitions and much more. Different horse breeds can be seen at the exhibition.
The Royal Windsor Horse Show is a major international equestrian event of the season. It is held within British traditions and welcomes thousands of spectators from various countries. The horse show in Windsor has been annually held since 1943. The royal family and Her Majesty The Queen, who is well known for her love for horses, often visit the show. For more than 60 years, royal horses have competed at the show.
Spectators have the opportunity to watch different equestrian competitions, then watch replay on big screens and discuss. Today entry for the opening day of the show is free, for other days one adult must pay from 16 to 25 pounds depending on the day of the competition.
Windsor on the picturesque banks of the Thames is well known thanks to Windsor Castle, a residence of the royal family. Town stores and antique shops offer various items and souvenirs; you are also advised to visit local restaurants and cafes. Each year, the Royal Windsor Horse Show – a world of traditions, performances and beauty – is visited by tens of thousands of people from many countries.
If you liked the news, tell your friends :)