Fantastic travelling inside the Icelandic volcano
3180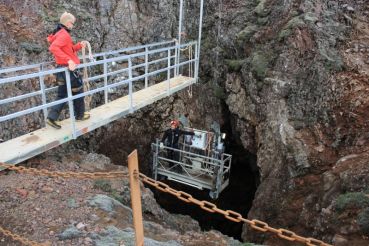 Iceland, as you know, is famous for its glaciers, geysers and volcanoes. This summer until September 30, you can take an unusual and unforgettable journey – into the mouth of the volcano. Thrihnukagigur is a so hard pronounceable name of this unique natural phenomenon. As a rule, after a volcanic eruption, cold hardened lava blocks the mouth until a new eruption. In this case, lava went under the ground or hardened on the walls. The volcano has slept for about 4,000 years and, according to experts, it is currently considered safe. So today you have an amazing opportunity to visit its crater. The first who experienced such journey was Arni B. Stefansson in 1974. It was he who gave an idea of using the volcano for excursions.
Thrihnukagigur located on the territory of Bláfjöll Country Park is about 20 km from the capital Reykjavik. You can overcome this distance by transport for half an hour. Then you need to pass 3 km of the hardened lava field to the crater. Entrance to the huge crater reminds a hole in the form of a small funnel; the shape of the crater connecting volcanic hearth with the ground reminds a bottle. It's quite easy to go down into the crater. An open cable lift will bring you down 120-meter deep for around seven minutes. Some of the corridors in the volcano reach a depth of 200 metres. Sometimes this descent to the bottom of the volcano is called "Journey to the center of the earth" by analogy with the novel by Jules Verne, where another Icelandic volcano is told about.
Thrihnukagigur inside is wonderful: natural minerals of yellow, scarlet and black colours can be seen there. The atmosphere inside the volcano is fabulous and it seems that characters of the Icelandic sagas live there. To move inside the volcano, special physical training or climbing skills are not required, but keep in mind that its surface is rough and rocky. Children from the age of 12 can take this tour. During your journey, guides will be with you – they will tell you about the Icelandic volcanoes, and control your safety. Temperature at the bottom of the volcano is about the same as in the fridge -5 °C, so you should take warm clothes with. Organizers of the tour will give you safety gear, helmets and harnesses before descending. After the journey, you'll be offered to taste traditional Icelandic meat soup and hot coffee.
If you want to experience an incredible feeling, open the world of volcanoes, and amaze your friends with extravagant adventure, then the volcano crater is your perfect choice.
If you liked the news, tell your friends :)